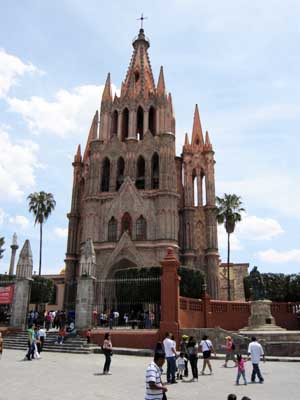 Conde Nast named San Miguel de Allende 2013 "The Best City in the World" in their reader's survey.  Well-deserved recognition for this UNESCO World Heritage City.  The centerpiece of this 250 year old city is the famous La Parroquia de San Miguel Archangel, a stunning church reputed to be the most photographed church in all of Mexico.  At the base of the church is the Jardin (garden) a gathering place for all.  The city of San Miguel has long welcomed artists and writer's drawn to the beauty of the cobbled stone streets and the amazing light that bathes San Miguel inspiring even those who have never painted to wish for a brush in their hand. Many art galleries line the streets, along with world-class restaurants and entertainment.
San Miguel is situated in the central plains of Mexico, about 170 miles northwest of Mexico City.  This beautiful colonial city is a major tourist center in Mexico. A Spanish outpost since the mid 1500's, many of the buildings in the center of town date back to the 1600's and 1700's. San Miguel is also an important cultural center and arts community. People travel from all over the world to attend conferences and festivals here.
San Miguel de Allende, is located in the high desert (6,266 feet altitude) so the weather is always perfect. Average high temp is 74°F to 84°F. April and May are the hottest months of the year. The rainy season is May thru October.
There are always many events happening in San Miguel. Our weekly bilingual newspaper is Atención San Miguel.
Conde Nast Traveller magazine Reader's Choice Awards 2013 rated San Miguel de Allende as number 1 in the top 25 cities in the world.
From Huffington Post:  10 Reasons Why People Fall in Love With San Miguel de Allende.
From Smithsonian Magazine:  Under the Spell of San Miguel de Allende.
From Trip Advisor:  San Miguel de Allende Vacations
From Marketwatch: Top retirement city offers sun, fun and affordability.
From Visit Mexico: San Miguel de Allende.
From The Boston Globe: Warm Welcome.